Four records are within Chris Johnson's reach
[/caption]
Will CJ become CJ2K?
Now that the playoffs are no longer a possibility for the Tennessee Titans, there's not a lot left to play for, other than records and experience for younger players. There are some prestigious and attainable single-season records that the Titans' offense and Chris Johnson will be striving to achieve in the season finale at Seattle next week. If Johnson is able to set any of these records, they will also reflect on the rest of the team, particularly the offensive line. Hey, those are my guys and I'd love to see them get some more recognition too. We'll look at four records within Johnson's reach, after the jump.
The Titans/Oilers franchise single-season rushing record
The record is held by Hall of Fame running back Earl Campbell, who gained 1,934 yards in 1980. Johnson is only 62 yards behind that mark, with 1,872. [caption id="" align="alignright" width="331" caption="Image created by Andrew Strickert for Total Titans"]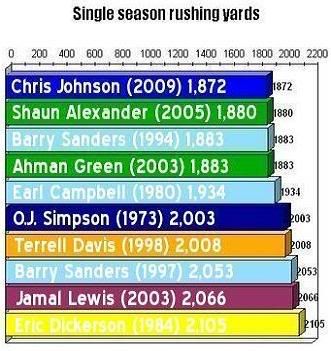 [/caption]
The NFL single-season rushing record
This record is currently held by Eric Dickerson, who set the mark with 2,105 yards in 1984. Johnson needs 233 yards to eclipse Dickerson's record, a figure that is not out of CJ's reach. CJ rushed for 228 earlier this season against the Jaguars, a much tougher defense than the Seahawks he'll face next Sunday.
The cherished 2,000-yard rushing mark
Only five men in NFL history have reached this plateau and CJ is now 128 yards away from joining this elite group. [caption id="" align="alignright" width="330" caption="Image created by Andrew Strickert for Total Titans"]
[/caption]

The NFL single-season yards from scrimmage record

After Campbell's franchise single-season rushing record, this is the next easiest mark to surpass. Johnson has gained 2,355 yards from scrimmage this year, only 74 yards less than Marshall Faulk, who had 2,429 in 1999.

Notes:

After 15 games, Johnson is now tenth in single-season rushing and needs only 12 yards to move ahead of Shaun Alexander, Barry Sanders (in 1994) and Ahman Green into seventh place, behind Campbell. Sanders is the only man who's listed twice in the top ten, for his 1994 and 1997 seasons. Incidentally, the most impressive feat on the single-season rushing list is O.J. Simpson's 2003 yards, which he gained in only 14 games in 1973. All the other top ten rushing leaders accomplished their records in sixteen-game seasons.

A quick look ahead:

The Seahawks, who are limping along with a 5-9 record going into today's game at Green Bay (9-5), should provide Johnson a realistic chance to set a few of those records. They're not among the weakest defenses in the league, nor are they one of the strongest. Seattle is tied for 16th in the league in rushing defense, ceding 4.2 yards per carry. The Seahawks are 24th in the league in total defense, yielding 356 yards per game. I'll do a little number crunching for another look at the situation later this week. What do you think? Will we be able to say CJ2K a week from now? Which records do you think will fall?

[caption id="" align="alignright" width="253" caption="Chris Johnson speeds by the defense in the Titans 2009 training camp. Photo by Andrew Strickert for Total Titans."]