Kevin Mawae's HoF chances will benefit from a Chris Johnson 2,000-yard season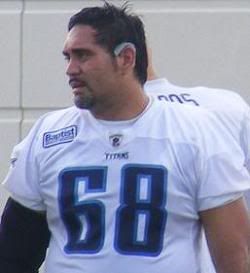 [/caption]Pop quiz time. Which of the following things do you know Joe DeLamielleure for the most? A. His advocacy for retired NFL players benefits. B. He's in the Pro Football Hall of Fame. C. He led the "Electric Company," the o-line which turned on the juice for O. J. "the Juice" Simpson.
DeLamielleure's bio
on the Pro Football Hall of Fame's website says:
"Best known as lead blocker for O. J. Simpson, NFL's first 2000-yard rusher"
Will this year's Titans o-line be best known for paving the way for whatever records Chris Johnson sets this season? Will Kevin Mawae join DeLamielleure in the Hall of Fame someday? He'll certainly receive consideration from the selection committee. Mawae has the credentials to at least receive consideration, with seven Pro Bowl and three first-team All-Pro selections. Anchoring a line which blocked for a 2,000-yard rusher could be the capstone of his career. In comparison, DeLamielleure had six Pro Bowls and three All-Pro selections, putting the two of them in similar circumstances. Here's something I'm curious about. Would DeLamielleure be in the Hall of Fame if O.J. didn't rush for 2,000 or if he was on another team? It's something of a chicken and egg question. DeLamielleure's Pro Bowl and All-Pro honors were certainly strong factors his HoF selection, but he probably wouldn't have received all those postseason honoraria without a back like O.J. Kent Hill and Doug Smith garnered eleven Pro Bowl nods between them as blockers for Eric Dickerson, the single-season rushing record holder, but neither of them are in the HoF. It should also be noted that neither of them were ever named first-team All-Pro either. Jonathan Ogden was a Pro Bowler and All-Pro before Jamal Lewis was drafted by the Ravens and he was still a Pro Bowler after Lewis left. His eventual induction is a no-brainer and Lewis' 2,000-yard season won't need to be considered as part of the discussion in his selection. We may get a clue about Mawae's chances when Tom Nalen becomes HoF eligible in three years. Nalen, who blocked for Terrell Davis in his 2,000-yard season, has five Pro Bowls and two All-Pro selections, so he's definitely a borderline case and Davis' 2,000 yards may not be enough to sway the selection committee. If he does make it, though, it will certainly bode well for Mawae's chances. Who knows, David Stewart and Michael Roos may be considered for the HoF some day and if CJ surpasses 2,000 yards this year, it will certainly be a feather in their caps. If CJ does attain the greatness of becoming a 2,000-yard rusher, most of the credit should go to Stewart, who's done more than any other o-lineman this year. Mawae may be the veteran leader and the anchor but he's had a terrible season. That will probably be conveniently forgotten when Mawae is being discussed by the selection committee. Perhaps Mawae's Hall of Fame bio will include the line, "Best known for anchoring the line that blocked for Chris Johnson's record-setting 2009 season."

Note: Coming up this week, I'll continue to look at CJ's quest for 2,000 and will have a preview of the Titans-Seahawks game. Drexel and Tom are working on several articles too, so we'll be busy beavers on Total Titans this week. We'll appreciate you being with us.

[caption id="" align="alignright" width="250" caption="Kevin Mawae may be best remembered because of Chris Johnson. Photo by Andrew Strickert for Total Titans."]