Predicting the Titans' 53-man roster seems to be easier this year than it's ever been before. I have only one roster spot that I find tough to call, the other 52 pretty much appear to be no-brainers.
Will Samkon Gado or LeGarrette Blount be the third running back?
Last week, I asked that, and other questions in examining the
27 Titans competing for 15 roster spots
. Those roster battles all seem to be settled now, save for the #3 RB. We'll look at that further, but now, here's my 53-man.
The Tennessee Titans concluded their 2010 preseason schedule with a 27-24 victory over the defending Super Bowl champion New Orleans Saints.
Despite All-Pro Chris Johnson's absence, four Titan running backs combined to rush for an impressive 222 yards. Continuing their spirited battle for a roster spot, both Samkon Gado and LeGarrette Blount had solid games toting the pigskin, accumulating 63 and 59 yards respectively.
The outcome of the contest was sealed with Gerald McRath's interception of a Chase Daniel pass with little time remaining.
Up next, some thoughts and observations regarding tonight's Titans' preseason-ender.
Last week, the Saints played their starters into the third quarter, so that was their 'dress rehearsal' game. Coupled with the fact the Saints kick off the NFL regular season next Thursday night, it makes sense they won't play their starters much, if at all, tonight.
I touched base the other day with Andrew Juge of
Saints Nation
, Bloguin's New Orleans Saints site, to ask a few questions about tonight's game. I was hoping Drew Brees would play at least a little and give the Titans secondary a good test, or as much as you could expect in preseason, but Andrew (great name) said it wouldn't happen.
The Tennessee Titans have not really been what you could call a blitzing team.  In 2009, they brought only 4 rushers 79.9% of the time, tops in the league. Surprisingly, that league-leading total was actually less than they rushed 4 in 2008, and the number of times they brought either 3 or 4 rushers fell from 83.3% to only 80.8%, or pretty much the same as the combined 80.7% they rushed 3 or 4 in 2007.  With the Colts actually blitzing some in 2009, the Titans finally inherited the mantle as the league's most blitz-averse team.
The continuity in blitzing in 2009 may have been a bit of a mild surprise, as Chuck Cecil replaced Jim Schwartz as defensive coordinator.  Cecil during his career as known as an aggressive player, and Fisher's Titans formerly (and nearly once again) employed the famously blitz-friendly Gregg Williams, whose Saints defense rushed 5 or more 47.3% of the time last year.  Against the Cardinals, the Titans frequently brought more than 4 rushers, often with good results.  That tendency to rush more than the basic 4 continues against Carolina, though with less impressive results.  We'll have to see what the regular season brings, but in the interim, I thought I'd write a little more about blitzing.
Drexel has already posted his thoughts on player performances in the Titans' 15-7 loss to the Panthers Saturday, but I thought I'd chime in with some additional comments.  I put up the raw data dump of my brief notes on each play at my personal site, but this is the more intelligible, reader-friendly version of those.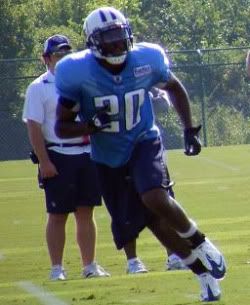 Fourth-round draft pick Alterraun Verner, whom I projected as a potential
third-round target
of the Titans, was one of the great stories of the Titans' 2010 training camp. It seemed like the ball-hawking Verner had several picks every week throughout camp and he added another in prime time on national TV.
Verner supporters can point to his interceptions as evidence he should be the starter at right corner when the season opens September 12. I don't believe Verner will be the starter -- yet -- and I doubt if Jeff Fisher will select Verner to start the season opener.
What hasn't received as much attention as Verner's interceptions is his weakness in deep coverage. He simply doesn't have great speed. We saw him beaten badly once versus the Panthers, something that occurred too often in camp.
Kenny Britt , Nate Washington and Justin Gage all beat Verner for "touchdowns" in training camp, not only in seven on sevens, but also in eleven on elevens, when the quarterbacks had rushers to contend with and a limited field of vision. (Britt beat Verner several times on bombs and Washington and Gage each beat him deep at least once that I recall.)
The Carolina Panthers outlasted the Tennessee Titans in last night's 15-7 defensive struggle. During the first half, when the starters played, the end result was a 0-0 contest through two quarters, as the defenses reigned supreme while the offenses on the other hand, fizzled.
Since it's the preseason, the outcome of the game isn't the emphasis: it's all about the starters getting solid reps as they prepare for the regular season and for the backups/roster hopefuls, it's their opportunity to make their individual cases for making the squad.
Up next....I'll take a look at some of the good and not-so-good performances by the Tennessee Titans in last night's loss.