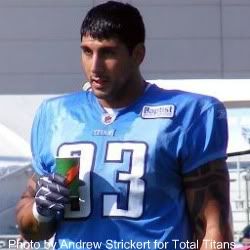 Will Jason Babin be a Titan again this year?
Tennessee General Manager Mike Reinfeldt had a two month window in January and February to get some of the Titans re-signed to new contracts. It's something that happens every year, as each team tries to keep its best players for four more years or so.
None of that has happened this year. No players were re-signed in January or February, as the 2011 NFL calendar year came to an end. That's rare, but this hasn't been a typical offseason. The Titans changed their coaching staff in January and the labor uncertainty didn't permit teams to function as usual, particularly regarding the status of players with four or five years service.
Still, even if this had been a normal offseason, I don't believe the Titans would have done a lot in trying to keep their own potential free agents. All of them are expendable, all of them are replaceable. There are better options available for upgrading their respective positions.