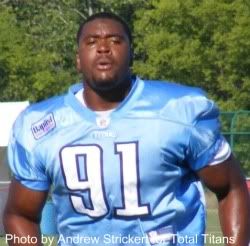 Jason Jones will anchor the Titans' d-line in 2011
We continue our series of positional analyses by taking a look at the defensive tackles. As I wrote several months ago in an earlier article, Six Positions the Titans Need to Upgrade in 2011, the Titans need to address the position during the offseason.
Since that article, the Titans have changed their head coach, defensive coordinator and defensive line coach. Also, GM Mike Reinfeldt indicated the Titans would change their scheme in regard to their defensive ends. How these changes will affect the defensive tackles remains to be seen but we should still consider DT to be a primary need for the Titans this offseason.
Here's what the situation looks like now, and why the position is in need of an upgrade, after the jump.