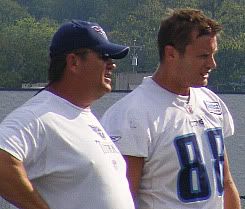 We continue our series of positional analyses with a look at the tight ends.
Third-year pro Craig Stevens is replacing Alge Crumpler as the inline blocker. Stevens certainly won't be the star among the Titans tight ends, but will, in my estimation, start more games and be on the field for more snaps than any of the others.
The reasoning behind that is pretty simple. Although Crumpler and Bo Scaife had a nearly identical number of plays in the past two seasons (1388 vs 1390 per Pro Football Focus), Crumpler started 29 times in 31 games for the Titans while Scaife started only 17 times in 30 games.
This merely means that Crumpler was on the field for the first offensive play of the game more often than Scaife. It also means that Stevens, as Crumpler's replacement, should do the same. I expect Stevens to start 14 or 15 games this year, as Crumpler did for two years.
Never being afraid to sound a sour note, one of my concerns about Chris Johnson ever since his first big preseason performance against the Rams has been whether or not he can run the ball with consistent success.  He's a boom-and-bust type runner and, as I wrote the week after that Rams preseason game, when boom-and-bust runners don't go boom enough, they're not very valuable.
Those of you who've purchased Football Outsiders Almanac 2010 (now available on Amazon!) may have noticed a nifty table showing the 10 teams since 1996 with the most Open Field Yards, the average yards per carry by a running back on gains beyond 10 yards.  The other 9 teams on that list saw their Open Field Yards decline by at least 0.4 yards per carry and by an average of 0.65 yards per carry.  Basically, expect CJ to go boom less often in 2009 than he did in 2010.
If CJ does go boom less often, he needs to have that more consistent success.  And, one point in common between 2008 and 2009, was that he didn't have consistent success.  Using Success Rate, which measures how often a running back to 40% of the needed yardage on first down, 60% of the needed yardage on second down, and 100% on third and fourth down, Johnson ranked 34th of 49 running backs in 2008 and 32nd of 50 in 2009.  During 2008, though, I wrote that his low ranking compared to White (who finished 2008 4th of 49) was misleading because of the distribution of carries, and thought it was a good time to carry that analysis through for the rest of 2008 and also look at 2009.
As Andrew mentioned, it's good to see Chris Johnson and the Titans reached at least a compromise solution, and CJ2K will be in camp when it opens at the end of this month.
The details of the deal are starting to emerge a bit, as Andrew Brandt of NFP wrote this morning about the 2012 incentives CJ has reached based on his performance the first two years.  In that piece, Brandt speculated a potential deal would be based on the $1.25 million CJ has reached, plus a more to bump him over $2 million in total compensation for this year.
Since then, though, PFT has reported that Brandt's speculation was wrong.  In fact, CJ's contract bump was merely moving forward the $1.25 million he has already earned from 2012 to this year.  Between that $1.25 million, reportedly paid as a signing bonus, and his $550,000 base salary, CJ will make $1.8 million in total compensation this year.  That's a far cry from the $30-40 million in guaranteed money he said he was looking for, but still not quite chicken feed.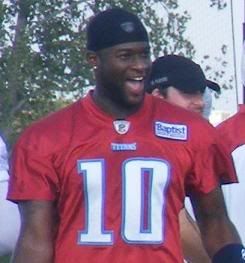 In one of his books, John Madden wrote that for a time, the Raiders had the ideal quarterback situation. They had a league MVP (Daryle Lamonica) as their starter, a veteran backup (George Blanda) who could come into a game in any situation, and a young quarterback (Kenny Stabler) they were grooming for the future. 
The Titans don't have a league MVP as their starting quarterback but other than that, the situation is similar. When the season opens, their roster should include three quarterbacks -- an established starter, a veteran backup and a young guy they are hoping to develop.
Vince Young
showed remarkable, and largely unexpected, improvement after being named the starter by owner Bud "VY is my guy" Adams following the bye week (seven) last year. I'm hoping Vince continues to improve this season for two reasons.
First, there are uncertainties across the board on a defense which isn't expected to show overall improvement. If the team is going to improve upon last season's 8-8 record and return to postseason play, it will be up to the offense to shoulder the burden, as Tom wrote
here
. 
"It's a tough job, but someone's gotta do it."
This quote aptly describes the life and times of the gladiators who play the fullback position. Unable to bask in the glory of the accolades often extended to the other "sexier" positions on offense, a fullback's unenviable task is centered upon lowering his head while attempting to seek-and-destroy anything that comes in his vicinity as he honorably tries to fulfill his duties of protection.
Now that I've attempted to define what the position is mostly about, let's take a look at how the Tennessee Titans stack up at FB.
Readers of ESPN Insider and Paul Kuharsky's AFC South blog (see also the chat and mailbag) learned this week that Football Outsiders ranked Titans DE Jacob Ford as the second-best prospect in the league, where "prospect" includes highly-drafted recent players who haven't yet become starters.  As I believe I've mentioned here in the past, and as I wrote in the Titans' section of Football Outsiders Almanac 2010, Ford seems to me, and also seems to be in the eyes of the Titans' brass, as a pass rush specialist who isn't really a complete defensive end.  And, under Jeff Fisher, players who aren't good at run defense tend to see their time on the field limited.
To try to get somewhere on why Ford ranks so high on the list of top prospects, and what it's reasonable to expect from him in 2010, I thought I'd try to look in some more detail about Ford's career and what the FO numbers say him.
The first installment of this year's series of pre-training camp positional analyses focused upon the running back position, where predictably, the conversation centered upon the availability of Chris Johnson as he and the Titans attempt to reach a compromise regarding his contract.
Today, we'll take a look at how the Tennessee Titans stack up at wide receiver.
With a solid mix of veterans and talented youngsters vying for playing time and roster spots, WR should be the home to some of training camp's most competitive battles.