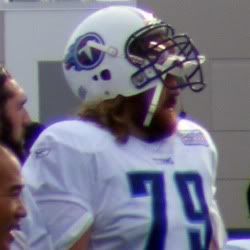 #79, the Titans' new OT, Adam Terry
Another nice day, weather-wise, at camp this afternoon, only about 90 degrees, or perhaps even in the high 80s, with a slight breeze. I didn't arrive for the start of practice, but don't believe I missed much, as I caught most of the position group period watching the o-line.
David Stewart, who had a hamstring tweak or pull Saturday night, didn't practice and Mike Otto got the first-team reps in his place. I don't read much into that, since Troy Kropog was the man who replaced him Saturday night.
Later in the afternoon, I noticed a new lineman, #79, who was not there during the positional drills. Jim Wyatt tweeted that the Titans had signed Adam Terry today, so that must have been him. #79 fit Wyatt's description of Terry, at 6'8" and 335 pounds, with a beard to rival Jake Scott's. He's the largest Titans' o-lineman I recall, taller than Roos and bigger than Stewart.