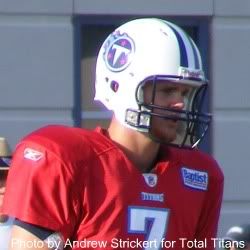 Rusty Smith will get his first NFL start on Sunday.
The Tennessee Titans (5-5) will face the rival Houston Texans (4-6) in an important divisional matchup at Reliant Stadium this Sunday. The winner will stay in hot contention in the tight AFC South race while the loser will be in last place, with a tough uphill climb ahead of them.
This game could be called the Misery Loves Company game. The Titans have lost three games in a row they should have won. Houston is in a four-game losing streak and has lost their last two games on touchdown passes in the final seconds.
The game will also mark the
first career start
for Titans rookie QB Rusty Smith. Normally, it's tremendously difficult for teams to win in that situation but Smith and the Titans have one thing in their favor which will make the task a little less difficult. The Texans have the worst pass defense in the league and
Football Outsiders
also ranks them
last in total defense
.
It's been sort of overlooked in all the hullabaloo related to the quarterback position, but the Washington Redskins entered this past Sunday's game with the worst third down conversion percentage of any team since the NFL started keeping track of the stat in 1991 or so, then converted 8 of their 16 third-down plays, including more in a single drive than they had in any single one of their previous couple games combined. So, I thought I'd take a look at all of those third down plays to see if there were any trends that could be gleaned.

As with every time I write about play breakdowns, the customary disclaimers: I'm doing this off television footage, not coaching tape. This means I won't see things that may be necessary to understand what happened. I don't know the actual playcall for either the Titans or Redskins-I can guess, and sometimes I can be fairly sure those guesses are pretty good, but I know I'm missing wrinkles. Much of the play in third downs and other key situations is based on a team's specific tendencies, which I do not know. I'll ascribe blame to players; when I do so, I'm reasonably confident I'm right, but that doesn't mean I am right. What you see in this are the dogs that barked, not the dogs that didn't bark.

Disclaimers made, on with the show.