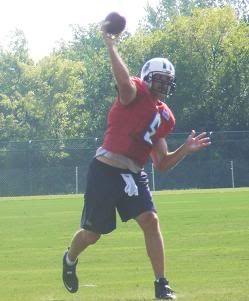 Kerry Collins may get his first start of the season. Photo by Andrew Strickert for Total Titans.
The Tennessee Titans (4-2) will attempt to remain at the top of the AFC South this Sunday when they host the Philadelphia Eagles, also 4-2, in an interconference meeting.
Kerry Collins will likely quarterback the Titans, following knee and ankle injuries to Vince Young in the Jaguars game this past Monday night. Eagles coach Andy Reid has named Kevin Kolb his starter, ahead of the injured Michael Vick (ribs).
Besides the absence of VY, the Titans may possibly be without the services of WR Kenny Britt, who may face disciplinary action following a Friday morning nightclub
incident
. 
Forecast
: Partly sunny, with a high near
79° and a 20% chance of
showers and thunderstorms after 1pm. South wind between 5 and 15 mph, with gusts as high as 20 mph. I'm bringing a Titans poncho, just in case, but it should be good football weather otherwise. I wouldn't mind a little rain and wind to slow down the Iggles' aerial attack.